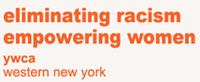 Extended Day Programs
---
Contact:
Carly Bruce
Director of Children & Youth Services
716-447-1494
YWCA of WNY Extended Day Programs
The YWCA of WNY offers before- and after-school programs at three locations in Western New York. The programs promote healthy growth and development for school-aged children ages 5–12 in a fun-filled, stimulating learning environment. Our highly trained, caring staff guide children through activities designed to promote creativity and enhance learning.

YWCA of WNY school-aged care sites are licensed through the NYS Offices of Child and Family Services and are registered with the Erie County Department of Social Services.

Locations with morning programs offer services from 7:00 a.m. to when school starts. Afternoon programs are offered immediately following dismissal of school.
EDP Locations & hours:
School House Commons EDP and Alternative Care. 1005 Grant Street Buffalo NY 14207. Mornings, afternoons, holidays, recess, & summer.
Cleveland Hill Elementary EDP. 105 Mapleview Road, Cheektowaga NY 14225. Afternoons.